49:1 Impedance Matching Network for an EFHW Antenna
Workshop Build-A-Thon
Saturday, May 6, 2023
9:00 am – 11:00 am
Ham Radio Outlet Training Room
(5710 W Good Hope Road, Milwaukee)
Great for home or portable operations. The 49:1 impedance matching network acts as a transformer between your 50 ohm coaxial feedline and your resonant length wire. If the wire is cut for 66 feet, it will be resonant on 40 meters and its harmonics of 20 meters, 15 meters, and 10 meters. With an antenna tuner, you can load it safely on 30 meters, 17 meters, and 12 meters.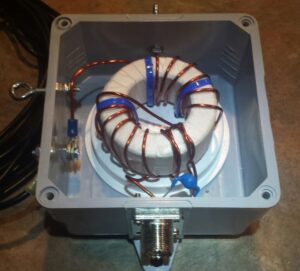 Please order parts as soon as possible to assure you have them in time for the project build.
Tools needed: soldering iron, solder, screwdrivers, pliers, cordless drill and bits (Dean will have one available, if necessary)
Safety is paramount. Please bring your safety goggles.
Seating is limited. Registration is required.