Jamboree On The Air – 2023
Saturday, October 21
Look for more details coming soon.
Meanwhile, enjoy our past couple of years at Camp Oh-Da-Ko-Ta.
---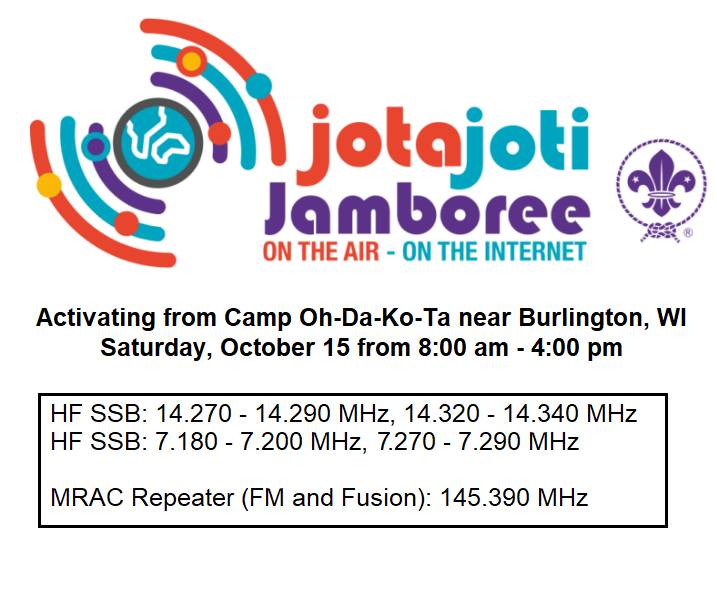 Jamboree On The Air is the largest Scouting event in the world. Held annually on the third full weekend of October, Scouts are invited to learn more about amateur radio and communicate with other Scouts and former Scouts around the globe via amateur radio through local clubs, such as the Milwaukee Radio Amateurs' Club. In 2017, the World Scout Bureau reported that over 1.5 million Scouts participated from more than 160 countries.
Again as in years past, MRAC partnered with the Three Harbor Council of the Boy Scouts of America in Milwaukee to bring amateur radio within reach at Camp Oh-Da-Ko-Ta in Burlington, WI. Over 300 Scouts were registered for the campout that weekend. The talented team of MRAC club members provided voice and data experiences to Cub Scouts and Boy Scouts utilizing SSB on HF, FM on VHF, C4FM on UHF, and PSK31 on HF.
While the primary activity occurred on HF giving Scouts an opportunity to learn about Scouts in other parts of the globe, local communication opportunities via 2m simplex, on our repeater in FM and C4FM were provided.
If you're a Scout or former Scout, we hope you will contact us (W9RH@ARRL.net) in 2022 so we can help you get in on the action. If you are a licensed amateur radio operator, we hope you will either join us or turn on your radio and look for us on one of the frequencies listed above and make contact. A Scout on the other end will no doubt be grinning ear to ear making their first amateur radio contact…with YOU!
__________________________  2022 JOTA Activation Notes  ___________________________
Wally Smith with Three Harbors Council BSA called me a few months ago to ask if MRAC would be interested in doing JOTA again this year at Camp Oh-Da-Ko-Ta in Burlington, WI. Jamboree-on-the-Air (JOTA) is the largest Scouting event in the world. It is held annually the third full weekend in October. JOTA uses amateur radio to link Scouts and hams around the world, around the nation, and in our own community. He said they were very happy with us last year and I said of course we would be happy to participate with the Scouts again. I mentioned this at our last club meeting and a few said you'd like to participate too. We also mentioned this activity during HRO Superfest where a member of the MSOE Amateur Radio Club, Jacob O'Shaughnessy said he'd like to do this with us. Jacob was working on his Eagle Scout but then they moved to Milwaukee and he aged out of the program. He said he'd like to give something back to Scouts this way. Jacob KD9RSP, Joe N9UX, Dave WB9SXG, and myself Dean KC9REN met on Saturday morning Oct. 15, 2022 at approximately 8:00 AM and setup our antennas and radios. Joe and Dave ran HF radios and I decided to run VHF/UHF this year. Jacob assisted setup and tear down and directed the Scouts to the stations. I used my Yaesu FTM-400 radio and connected through our repeater to Wires-X CQ-AMERICA Room # 21000. Wow, were we busy! There was almost a continuous amount of Scouts waiting to try out Ham Radio. We made so many contacts this year, I'll bet we had more than 150 or so Scouts get on the air to talk to other Hams and Scouts around the USA and Canada. We were able to help a group of Scouts working on their Radio Merit Badge this year too. I saw so many smiles on these Scout's faces. I've included a few pictures of us here.
73, Dean, KC9REN