Jamboree On The Air (JOTA)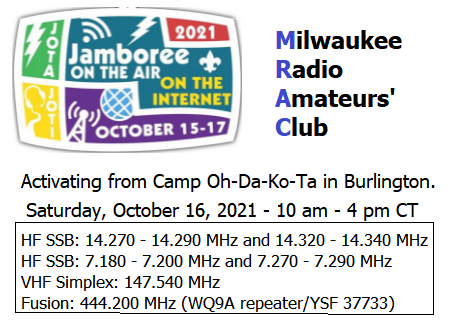 Jamboree On The Air is the largest Scouting event in the world. Held annually on the third full weekend of October, Scouts are invited to learn more about amateur radio and communicate with other Scouts and former Scouts around the globe via amateur radio through local clubs, such as the Milwaukee Radio Amateurs' Club. In 2017, the World Scout Bureau reported that over 1.5 million Scouts participated from more than 160 countries.
Again as in years past, MRAC partnered with the Three Harbor Council of the Boy Scouts of America in Milwaukee to bring amateur radio within reach at Camp Oh-Da-Ko-Ta in Burlington, WI on Saturday, October 16, 2021. Over 300 Scouts were registered for the campout that weekend. The talented team of MRAC club members provided voice and data experiences to Cub Scouts and Boy Scouts utilizing SSB on HF, FM on VHF, C4FM on UHF, and PSK31 on HF.
While the primary activity occurred on HF giving Scouts an opportunity to learn about Scouts in other parts of the globe, local communication opportunities via 2m simplex, on our repeater in FM and C4FM were provided.
If you're a Scout or former Scout, we hope you will contact us (W9RH@ARRL.net) in 2022 so we can help you get in on the action. If you are a licensed amateur radio operator, we hope you will either join us or turn on your radio and look for us on one of the frequencies listed above and make contact. A Scout on the other end will no doubt be grinning ear to ear making their first amateur radio contact…with YOU!
__________________________  2021 JOTA Activation Notes  ___________________________
Crisp Autumn air. Blue skies. Colorful tents. 300 Scouts. Ham Radio. It must be JOTA (Jamboree On The Air). Camp Oh-Da-Ko-Ta in Burlington was the setting for MRAC's Field Day-style set-up for Dean, KC9REN, Darlene, KC9SBN, Ted, N9KQQ, Roger, AC9BT, Edward, KD9OZD, and Dick, N9EEE to engage over a dozen Cub and Boy Scouts and their families with on-air QSOs with other Scouts in Connecticut, California, and the local area. For over an hour, W9RH (Burlington) and K1RHH (Connecticut) held a continuous series of QSOs between a rotating group of scouts interested in trading names, ranks, ages, locations, and scouting interests. As their scouts moved on, we ended our QSO and worked a pile-up of other JOTA stations from around the country that had been listening in.
The event was activated with a Yaesu FT-991A and G5RV on HF; Yaesu FT-891 and EFHW on PSK31; Yaesu FT-897 and EFRW on FT8; and Yaesu FTM-400 and VHF Slim Jim (ladder line project) on 2 meters FM and C4FM. Back-up radios and antennas were on standby for propagation changes or equipment failures. Also on hand but not deployed was a portable satellite station.
—73—